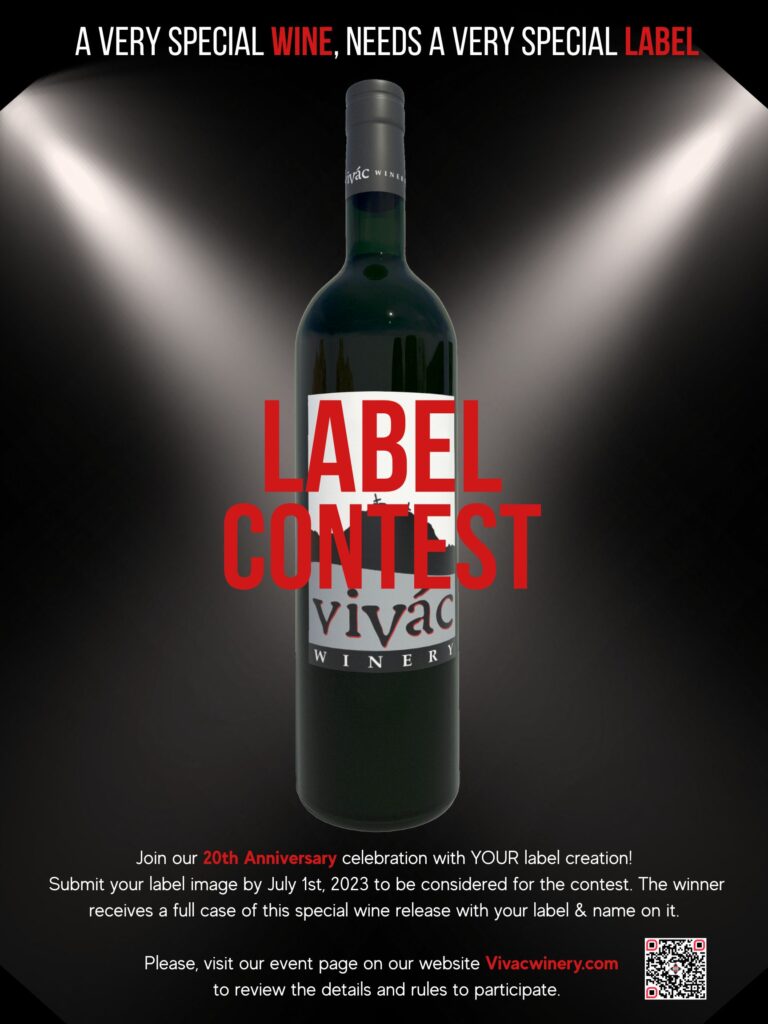 This year we will be releasing a very special wine, our very first "Beaujolais Nouveau" style wine, to commemorate the Vivac Winery Tasting Room's 20th year of being open! This very special wine needs a very special label, so we are having a LABEL CONTEST!
As far back as the 1800s, Beaujolais Nouveau producers would gather to celebrate the end of the harvest by toasting the vintage with some of the young wine produced that year. Traditionally using the Gamay grape, we are celebrating with our incredible 1725 Estate Vineyard Pinot Munier!
Submit your label image by July 1st 2023 to be considered for the contest. Winner receives a full case of this special wine release with your label and name on it!
RULES TO PARTICIPATE FOLLOW:
1)We encourage you to use our branding colors: True red, black, white, gray, & silver. Be aware we may change your submission to our branding colors if selected.
2)Submission must fit the current label size of 02.37 x 04.00 dimensions
3)Must keep in our branding esthetic of modern & graphic, but can be any medium.
4)You are encouraged to submit multiple images!
5)Please, no political or religious content.
6)This is joyous, your label idea should be too.
7)Any of the photos from our social media can be used as inspiration or a template.
8)Please avoid text. We will add our logo & anniversary message to the label.
9)Your art file should be submitted as PDF, PSD, PSB. Email your file to Liliana@VivacWinery.com or drop your file in a memory stick at the tasting room.
2023 Events
We partner with some of the best organizations NM has to offer including Meow Wolf's Taos Vortex, Globalquerque, Santa Fe Wine & Chile, Museum of NM Foundation and many more. We can take you on glamping adventures, see you at athletic races or invite you into the behind the scenes of Vivac with our Picking Parties. As we have a wine for every palate, we have an event that is perfect for you too!
The official wine of Meow Wolf's Taos Vortex 3 day festival and the Taos Concert Series which brings some of the biggest names in the music industry to Northern NM.
Globalquerque, the largest world music festival bringing the best musicians from every continent to Albuquerque.
Santa Fe Desert Chorale Sponsorship, one of the Nation's premier vocal ensembles, utilizes our support to fundraise and entice people to support these talented musicians.
Rio Chama Gourmet Wine Dinner Raft Trip with guest chef catered 4 course meals on the bands of one of the most stunning rivers in the state.
Santa Fe Wine & Chile Fiesta where our wines shine compared to the best the world has to offer and we are yearly poured at the Governor's Mansion for the VIP event.
Museum of New Mexico Foundation Partnership allows us to support the collective group of remarkable museums in the state via events, education and fundraising.
Picking Parties every fall serve as the very real need to harvest our Estate Vineyards, but also a chance to spend the day with our winemakers and is topped off with an incredible guest chef 4 course wine lunch, a bottle of wine to take home, a winery tour and barrel tasting.
Taos Winter Wine matches our International Award Winning Wines with world class skiing in a wine fest that sits atop the Taos Ski Valley.
Picking Parties Video